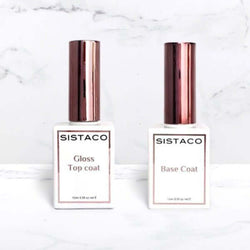 Base and Top Coat Duo (Bottle)

Gloss Top Coat Acrylates Copolymer, Cellulose Acetate Butyrate, Pentaerythritol, Dimethicone Base Coat Acrylates Copolymer, Cellulose Acetate Butyrate, Hydroxycyclohexyl phenyl ketone, BHT, Dimethicone

4 Reasons Why People Love Sistaco
Quick and Easy to Use
Our system is so simple and produces a perfect salon-quality finish every time - This is the system for all ages and experience levels. No dipping or drilling; just simply brush it on and remove easily whenever you want!
Long-lasting
Your application will last you up to 2 weeks, often longer, protecting your nails and keeping them strong. As we're the only nail system where you can mix your own colours, you'll be getting creative and wanting to change sooner!
Non-Toxic
All of our products are non-toxic! They are also odour free so say goodbye to salon headaches or smelly dip kits. Sistaco is unique which is why we have hundreds of thousands of customers worldwide.
Money Saving
Let's face it, it's tough finding the time and the money to go to a salon continually. Our system will save you thousands over the year, you can do over 30 full manicures with a single pot. That's one every 2 weeks for a YEAR! And with so many shades in our range, you will never be bored.
HOW DOES SISTACO NAIL SET WORK
Five Star of course
I defy anyone to find something on the Sistaco website that isn't 5 star! I find it really useful to have a couple of each. One set for the more sparkly powders and another for the more subtle powders. I always heat both. Boiled water in a thick ceramic pot. Stand them in there during use. Really makes a sleek smooth finish 😊
My nails have never been so strong as they are today for years thanks to Sistaco, The express remover isn't as express as led to believe but bonus dosnt seem to damage your nails unlike AAsetone and no nasty smells the base. Coat and top coat are easy to use and help to give a long lasting shine. Overall a very good system if you follow instructions and set aside quality time, once done will usually last @ least 2 weeks, l have managed 3 and over with top up. SISistaco is my new must have love it. 👆😊❤️
Great staying power!
Gel nail products have never stayed long on my nails… just a week to 10 days. It is something to do with hormones, I was told. I have tried so many salons and at home gels but THIS one stays on, gives strength to my nails and is easy to use. It's amazing and good for my nails. LOVE IT!