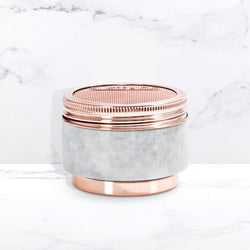 Our gorgeous, real Carrara Marble pedestal captures your powder allowing you to create a unique colour or reuse.  It is solid, steadying your hand to...
Read More
Our gorgeous, real Carrara Marble pedestal captures your powder allowing you to create a unique colour or reuse.  It is solid, steadying your hand to get that perfect application.  A perfect addition to your collection and a smart look for any home; it has a rose gold stainless lid; beautifully embellished with our signature Sistaco logo.

Dimensions: 8.6cm DIA x 5.9cm H
Read Less
4 Reasons Why People Love Sistaco
Quick and Easy to Use
Our system is so simple and produces a perfect salon-quality finish every time - This is the system for all ages and experience levels. No dipping or drilling; just simply brush it on and remove easily whenever you want!
Long-lasting
Your application will last you up to 2 weeks, often longer, protecting your nails and keeping them strong. As we're the only nail system where you can mix your own colours, you'll be getting creative and wanting to change sooner!
Non-Toxic
All of our products are non-toxic! They are also odour free so say goodbye to salon headaches or smelly dip kits. Sistaco is unique which is why we have hundreds of thousands of customers worldwide.
Money Saving
Let's face it, it's tough finding the time and the money to go to a salon continually. Our system will save you thousands over the year, you can do over 30 full manicures with a single pot. That's one every 2 weeks for a YEAR! And with so many shades in our range, you will never be bored.
HOW DOES SISTACO NAIL SET WORK
Beautiful
The pedestal makes application so much easier. The powder is no longer wasted (I am so looking forward to using that powder when I have enough!)
The marble makes a stable workspace and is absolutely beautiful!
Best nail kit!!
I love this nail kit so easy to put on and lasts which is fantastic for me. As I find gel paints tend to peel and chip easily.
But this green one have kept going for a week now as shown in picture. That's with typing on pc for work, cleaning, playing with the child & all those everyday tasks, it's still there, I'm just amazed.
The kit itself it easy to put on and only took me an hour to do my hands and feet whereas before with gel would take 2hrs so saves time yay!!
Absolutely fantastic
I have being watching and reading about your wonderful products for a while but afraid to take the plunge. Well I did, and could not be more satisfied. I received two of my orders and two more orders are on its way to me, so as you can see I became a believer even before trying it on. Once I receive my packages it became a production to me how was I going to do this. Well, with all the advice I read I selected the beautiful sage which I still have it on, and don't want to take it off, that is how much I like it. Thank you for the beautiful gifts you sent, they are very much appreciated and will be put to good use. Your products are easy to use, beautiful in your hands and I cannot say enough. THANKS A MILLION FOR BEING THERE FIR US LADIRS.!!!